Recreation Opportunities
The Mead Wildlife Area has something to offer every outdoor enthusiast!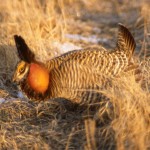 Birdwatching
"The Mead is probably the best all around wildlife watching acreage in central Wisconsin." ~ Birding in Central Wisconsin
Check out the Birds at the Mead or the Mead's bird checklist.
---
Hunting
Principal huntable wildlife: Waterfowl, deer, bear, grouse, woodcock, squirrels and rabbits.
Visit the DNR's website for hunting and trapping season dates and hunting regulations.
---
Hiking, Biking & Boating
The Mead offers about 80 miles of hiking trails and 3 easy walking trails around the Center. The Berkhahn Bike Trail can no longer be maintained for bike usage. It is now a nice 7-mile long walking trail. This trail will take you out to the Cormorant Rookery located in the Little Birch Flowage. In the fall Refuge lines cross this trail, so a close-up view the Rookery is prohibited. You can view it with binoculars.
McMillan Marsh north of Marshfield contains a 5.5 mile biking which is open from May 1-August 31. There are also numerous hiking trails which are open, except when the Refuge Lines are up from September 1-December 10.
---
Wildlife Watching
A list of links to the types of animals that can be found at Mead and elsewhere in Wisconsin is located at the Wisconsin Department of Natural Resources' (EEK! ) website.
---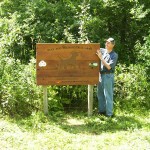 Dog Training
The Wisconsin Association of Field Trial Clubs (WAFTC) and the Pointing Gun Dog Association (PGDA) are just two of the organizations that use the Mead property for trials and events. Contact the Mead for Dog Trial events.
---