McMillan Marsh
Sumertime on Main Flowage
---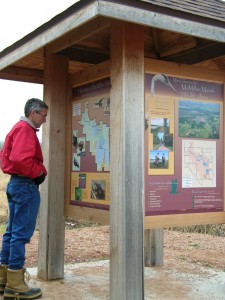 The McMillan Marsh Wildlife Area (MMWA) is a green oasis which lies to the immediate north/northwest of Marshfield. This area is felt to be an invaluable "recreational asset" and "environmental safeguard" to the citizens of Central Wisconsin.
Because northwest winds pre-dominate the area, this green space along with the farms northwest of Marshfield, ensures the city is constantly bathed with clean air.
The filtering and purifying value of the wetlands also contributes significantly to clean surface and drinking water.
The MMWA provides quality and varied recreational opportunities to the citizens of Wisconsin. It's a great place to hike, watch birds, snowmobile, hunt, trap, bike, photograph or just walk the dog.
What to do at the Marsh:
Walking your dog

(Dogs must be on a leash April 15 thru July 31 for the protection of ground nesting wildlife)

Enjoy biking on marked gravel seasonal trail

(Open May 1 thru August 31)

Hike anytime along the many trails

(Refuge access is restricted during fall migration September 1 through November 31)

Wildlife watching
Abundant photo opportunities
Seasonal hunting and trapping
For biking opportunities around the McMillan Wildlife Area, check out the Marshfield Area Friends of the Trails website.
The Friends of Mead/McMillan Association with the cooperation of the Wausau and Marathon County Park, Recreation and Forestry Department, WI Department of Natural Resources, Marshfield Water & Light Department, and the Townships of Spencer and McMillan encourage you to use and enjoy the McMillan Marsh Wildlife Area.