Learning Opportunities
Environmental Education
One of the goals of the Mead Wildlife Area is to provide wildlife and environmental programs to the citizens of Wisconsin. These programs help to foster a sense of environmental stewardship, that through education we can achieve a better understanding of the values and issues of our wildlife and natural resources.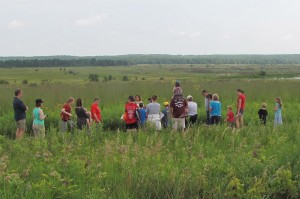 The Wisconsin Department of Natural Resources – Mead Wildlife Area Education Program offers a fun and exciting way for your class (PreK-12 or college) or group (Girl & Boy Scout or Adult & Family) to explore the worlds of science and environmental education while meeting state academic standards. There are classes offered in the winter and summer months too! With the Stanton W. Mead Education & Visitor Center educational programs can be run year round.
These programs may include tours of the Education and Visitor Center's green building design or the wildlife area, on or off site presentations and activity based programs. The Mead DNR staff, dedicated volunteers, and UW system students come together to help achieve this goal. For a complete description of the program opportunities, please view the Wildlife Conservation Education Brochure.
If you are considering a visit to the Mead and wish to request a reservation, contact Sam De Roche at [email protected]. There are no fees for school groups or organizational groups(scouts, adult education, etc.) that wish to schedule an educational activity; but donations are appreciated. Donations are used to support the educational programs at the Mead. There is no charge for group tours, but reservations must be made at least 6 weeks in advance. Use the following form to schedule your on-site organizational group:
If you are interested in organizing a field trip for your students or in having our staff come to you, contact Sam De Roche to make a reservation request. Once we are sure we can accomodate your requested dates, you will be sent a program planning form which will allow us to create a custom trip for you. Our Senior Educator will contact you with logistics and will make sure your trip is the best experience possible.