Interpretive Trunks
There are two types of interpretive trunks that can be reserved – Closer Look at Whooping Cranes and Wisconsin Mammals. Teachers, scout leaders, and other educators are welcome to borrow the trunks.
George W. Mead Wildlife Area
Wisconsin DNR
201517 County Highway S
Milladore, WI 54454
Fax: (715) 457-4650
The Mead Wildlife Area has one of each of the above trunks that can be reserved for 2 weeks including pick up and drop off at the Visitor Center (trunks can not be shipped). Pick up and drop off times are Monday through Saturday, 8:30am – 4:00pm by appointment. A $100.00 deposit fee (cash or check only) is required at the time of pick up. The fee will be returned in full if the trunk is in as-issued condition. If you are interested in borrowing a trunk, contact Senior Educator, Sam De Roche at (715) 540-6013 or [email protected].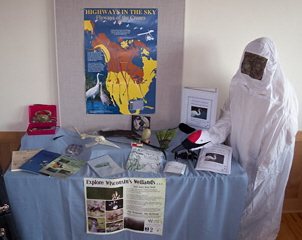 The Closer Look at Whooping Cranes trunk provides information about whooping crane ecology and biology, details the story of the whooping crane's decline and reintroduction, and offers over fourteen hands-on activities to share with students. The education trunk contains teaching tools such as a crane skull, egg, and bone replicas, and the isolation rearing costumes worn by biologists who raise whooping crane chicks in captivity. The trunk was developed for students in grades 4-8 but the activities can be adapted for students school-age through adult.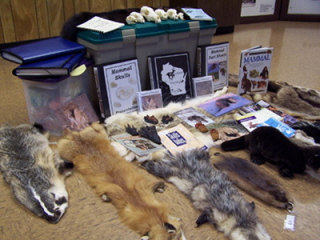 The Wisconsin Mammals Education Trunk is designed to teach youth about the state's wealth of mammals, their natural history and management. This self- contained education trunk consists of an interdisciplinary curriculum paired with hands-on materials and audiovisuals. The lesson plans are intended for school children from kindergarten through tenth grade and all are correlated to Wisconsin Department of Instruction state academic standards. The trunk includes pelts, skulls, track molds, pictures, videos, books and games emphasizing some of Wisconsin's most popular and several misunderstood mammal species. Also included is a 16 program curriculum covering such topics as: Mammals and Their Signs, Trail Tracker, and The Story of Wildlife Management.