Field Trip Information
We are glad that you are interested in bringing your class to the Mead Wildlife Area.
Listed below you will find information to help you prepare your students for their visit. With a little bit of prior knowledge and preparation, a day at the Mead becomes even more meaningful. We've included a map, a brief history, some fun facts, key vocabulary, and guidelines for appropriate behavior during your visit.
Part of the purpose of this field trip package is to help you, the teacher, become more familiar with what happens at Mead.
We hope you will feel comfortable enough to jump in and help us teach your students. We know this material well, but you know and have a relationship with your students. When they see you diving in with excitement, you set an example for them; that what one learns at the Mead and in the natural world is vital to our day-to-day living.
It is our goal to make each student/visitor a better environmental steward. We appreciate your willingness to help in this effort.
If you are considering a field trip to the Mead and wish to schedule your school group, please view our online Center Calendar for availability. Please call two weeks in advance of your confirmed date to finalize program schedule and approach.
On-Site School Programming Registration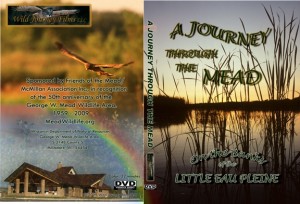 Teachers can use the souvenir showcase order form to assist their students with purchasing items. Items are subject to availability and prices are subject to change. Items are sold only at the Stanton W. Mead Visitor and Education Center.
All visiting school groups are required to view the Introductory DVD "A Journey through the Mead". The DVD can be viewed either at school before your visit (Here is a letter to libraries to purchase their own copy: School library) or at the Mead-before your day begins.
Mead Wildlife Area Field Trip Package